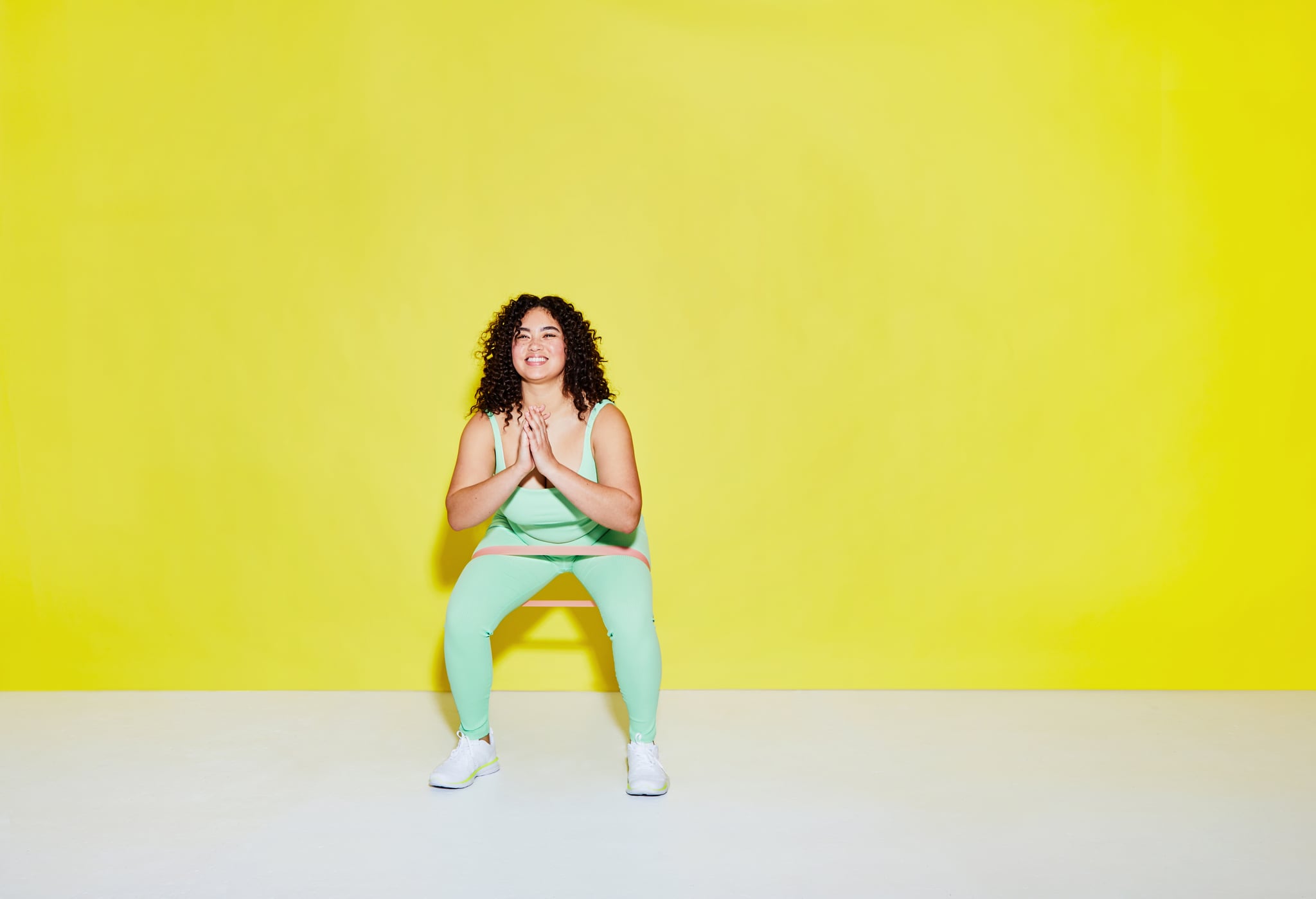 Picking up heavy weights can be empowering and rewarding — but you don't need equipment to start a fire in your leg muscles. In fact, some of the most effective exercises can be done using your own body weight. A prime example? Jump squats.
Jump squats (or squat jumps, whichever you prefer) are simple: you do a squat and add a jump at the top. Regular bodyweight squats may be easy for you, but adding a plyometric component and asking your body to work against gravity by jumping off the floor increases the challenge on your muscles.
Whatever your exercise level, there are ways to scale jump squats up or down them easier or harder. Learn why jump squats are great for your body and how to do them ahead.
The Benefits of Jump Squats
Jump squats come with all the benefits of regular squats, plus even more. "Jump squats improve explosiveness, speed-power related abilities, and promote balance and agility," says Cristina Chan, F45 Training trainer. "Jump squats training is highly effective in most sports that include sprinting or vertical reaches." So if you play intramural soccer or recreational pickleball, for example, jump squats can help you prep your body for those movements.
Unlike the classic squat, a jump squat is also an effective form of cardio, Shan adds, since it gets your heart pumping. Because they can get you out of breath in such a short period of time, this makes jump squats a great addition to a HIIT workout.
Wondering which muscles, exactly, jump squats target? Jump squats work your quadriceps, hamstrings, glutes, and calves. Adding a resistance band around your legs will shift the focus to your glute medius, the muscle on the outside of your glutes.
How to Do Jump Squats
Because jump squats are an intense movement, you'll want to prep accordingly. "It's better to train either on grass or turf, or by using [some sort of] padding, such as a rubber mat, in order to reduce the stress on your knees," Chan says. "You should also carve out about 10 minutes for a warm-up before kicking off your workout to prepare your body for the stress it's about to undergo."
And since this is an advanced move, don't be afraid to scale back to find a version that's suitable for you. Chan says modifications are encouraged so you can build the proper technique for a jump squat. Once your form is solid, you can level up.
Here's how to do a jump squat with proper form.
Squat Jump Variation: Low-Impact Squat Jumps
Jump squats are high-impact, meaning they put a lot of force on your joints. If you're looking for a low-impact variation of squat jumps, try this one. It works your lower body through the same movement pattern and muscles but is easier on your joints.
Squat Jump Variation: Resistance Band Squat Jumps
To make it more challenging and recruit your glute medius, you can add a mini loop resistance band around your thighs.
Squat Jump Variation: Weighted Squat Jumps
Squat jumps absolutely have the ability to challenge your lower-body muscles without any equipment, but you can add weights to make it even harder if you'd like. Try strapping on a weighted vest, or holding onto some light- to medium-weight dumbbells. (Start light and you can always level up.)
Image Source: POPSUGAR Photography / Matthew Kelly