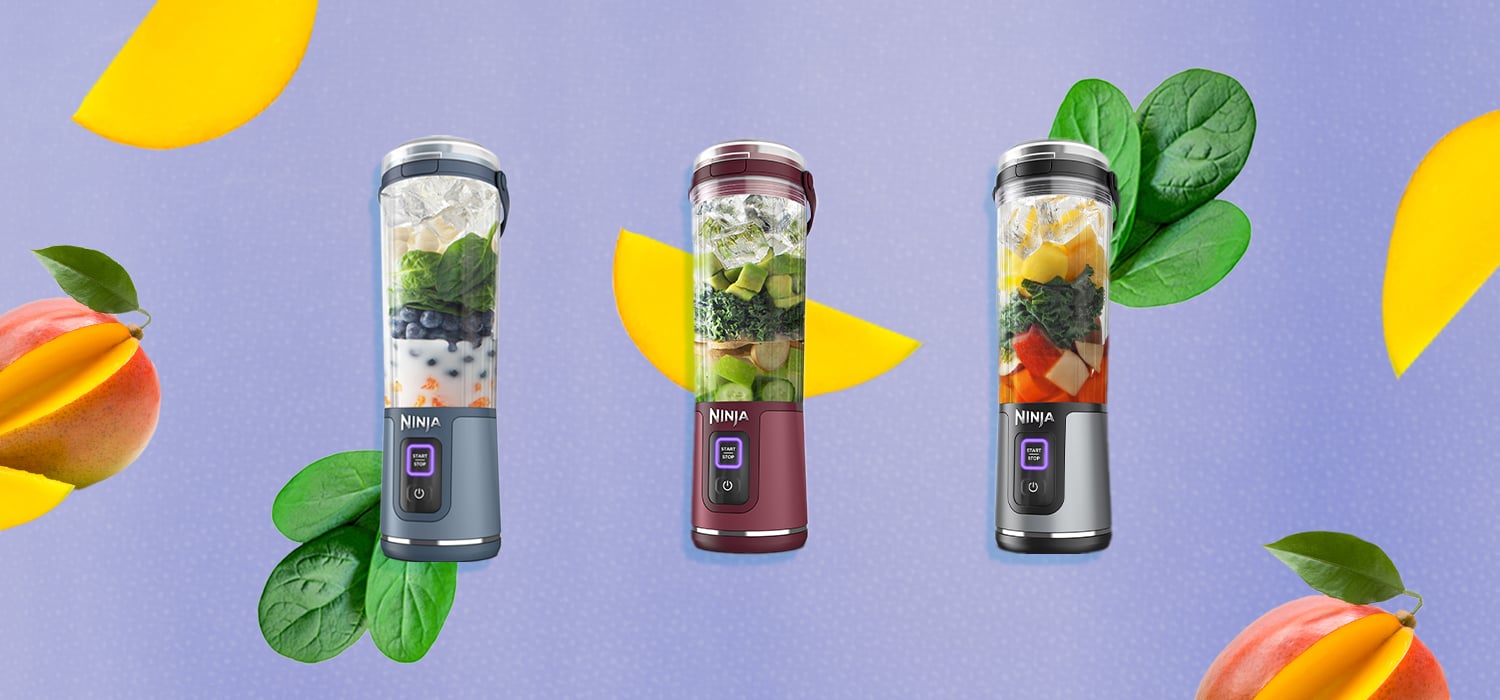 Ever since I first started meal prepping in my early 20s, smoothies have been part of my weekly rotation. Green smoothies are one of my go-to breakfasts, and I love nothing more than a frosty protein shake after a sweaty workout.
Naturally, I was thrilled to get to try out SharkNinja's new Ninja Blast™ Portable Blender ($59.99), a lightweight, cordless device that allows you to blend on-the-go. I'll admit that I was a little skeptical at first — would it really be leak-proof? — but the Ninja Blast™ quickly won me over. Here's what happened when I tested the portable blender for a full week. Spoiler alert: I'm now someone who makes smoothies in the park.
Day 1
After fully charging my Ninja Blast™ for the first time, I decided to start things off with a tried-and-true favorite: a tropical green smoothie. I grabbed half of a frozen banana and some frozen spinach from my freezer — I always try to keep these ingredients on hand for green smoothies. I happened to have a ripe nectarine on the counter, so I sliced that into several large chunks and added it to the blender along with some frozen mango chunks and a generous pour of oat milk.
The resulting smoothie was absolutely delicious, but what was even more impressive was how easily the Ninja Blast™ blended up the frozen fruit. As long as my liquids reached the minimum liquid level on the side of the cup, the Ninja Blast™ made quick work of any ingredient.
Day 2
For the second day of my trial run, I decided to take the Ninja Blast™ to the park to really test out its portability. The weather was hot and steamy, and the fresh watermelon I just picked up at the store was looking especially tasty. I tossed several chunks of watermelon into the blender with some frozen raspberries, coconut water, and a squeeze of lime juice, then packed it up for a picnic in the park.
Once I found a nice shady spot in the park, I laid out my blanket and got ready to blend. Though I felt a little hesitant about putting a full blender in my tote bag, I was relieved to find it didn't leak at all. The screw top was still tightly secured! After a 30-second blend, my refreshing watermelon-raspberry drink was ready to enjoy — and it made the perfect complement to an afternoon of reading in the park. Plus, the Ninja Blast™ is so compact and blends so quietly that I didn't get any weird stares from passersby — certainly a surprise for a New York City park.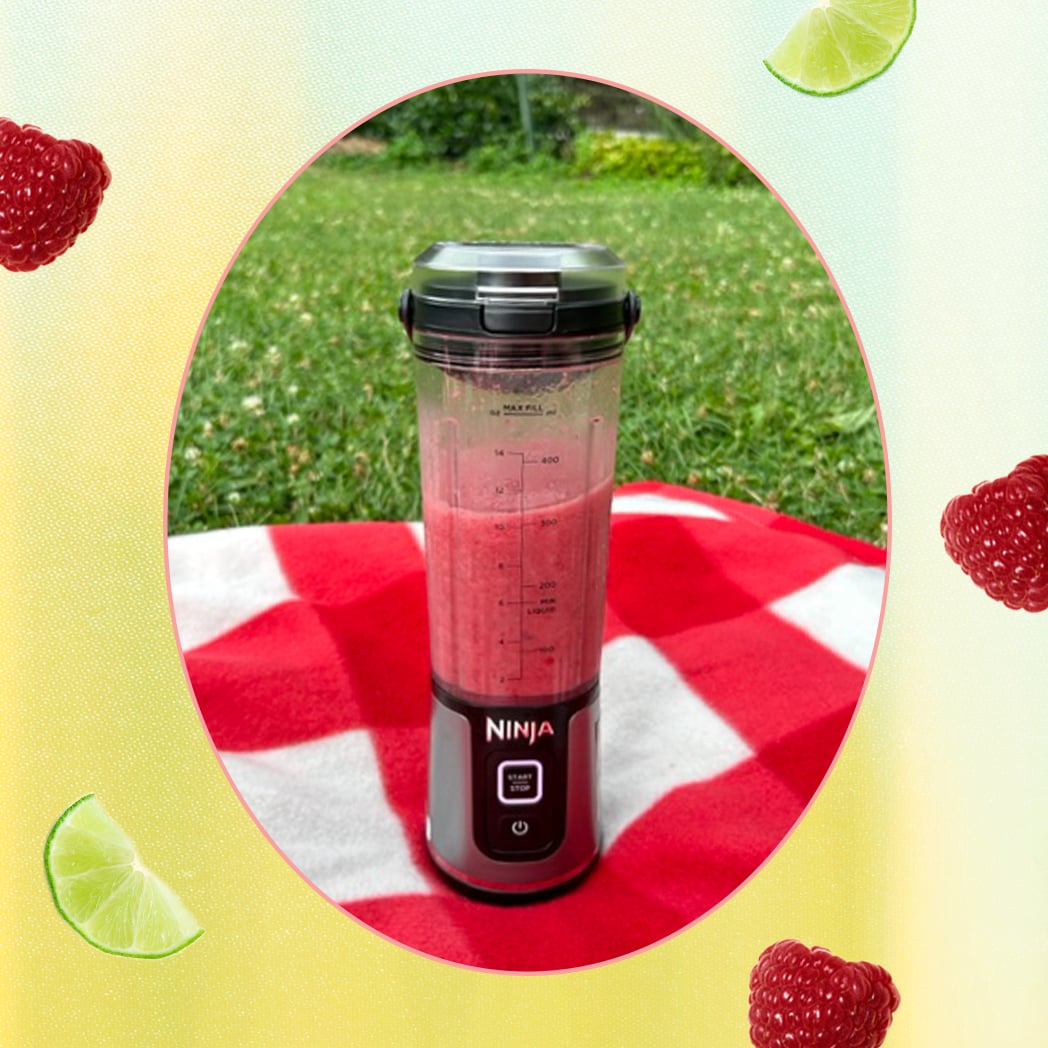 Day 3
Another day, another green smoothie. I love getting a serving of vegetables first thing in the morning, but on this particular day, I woke up with a sweet tooth. To satisfy my cravings, I whipped up a quick green smoothie with more frozen banana, frozen spinach, plain Greek yogurt, a generous dollop of peanut butter, and oat milk.
Day 4
I was doing the dishes when it hit me: I don't have to hand wash this blender — hallelujah! The fact that I can just toss the cup and lid of the Ninja Blast™ into the dishwasher means I'm much more likely to make a smoothie. Other blenders I've owned had to be hand-washed, which is always a pain. After making the fourth smoothie (a variation on the prior day's green smoothie, but with blueberries instead of banana), I quickly rinsed the Ninja Blast™ base, put the cup and lid in the blender, and went about my day.
Day 5
By the fifth day of this experiment, I needed some fresh smoothie inspiration. The Ninja Test Kitchen has a ton of recipes made to fit the Ninja Blast™, so after a quick browse, I landed on a coffee protein shake. I always look forward to my morning cup of coffee, so a smooth, creamy mocha-flavored smoothie was right up my alley.
Day 6
I snoozed my alarm a few too many times in the morning and ended up rushing to get out the door on time to make my first meeting of the day. I filled my Ninja Blast™ up as fast as possible with frozen fruit, Greek yogurt, peanut butter, and oat milk, then pressed the button to start blending while I raced around the apartment, tossing things in my work bag. After just one 30-second blend cycle, my smoothie was ready for me to quickly drink before running to the train.
Day 7
The last day of my week happened to be a work-from-home Friday, so I had some extra time to sip my final smoothie and reflect on how the week went. The Ninja Blast™ is much faster and easier to use than my old, clunky blender, and it actually made me more likely to make a smoothie for breakfast rather than just grabbing a bar or toasting a bagel. Getting a serving of fruit — and sometimes veggies — first thing in the morning helped me feel more confident about my nutrition and ready to take on the day.
With the Ninja Blast™, it's easy to make a smoothie anywhere. Thanks to its portability, this blender can come with you anywhere from a campground to a road trip. Because it's so affordable (just $60!), the Ninja Blast™ would also make a great gift for housewarmings, birthdays, and more. Expect to see it pop up on all of your friends' wedding registries.