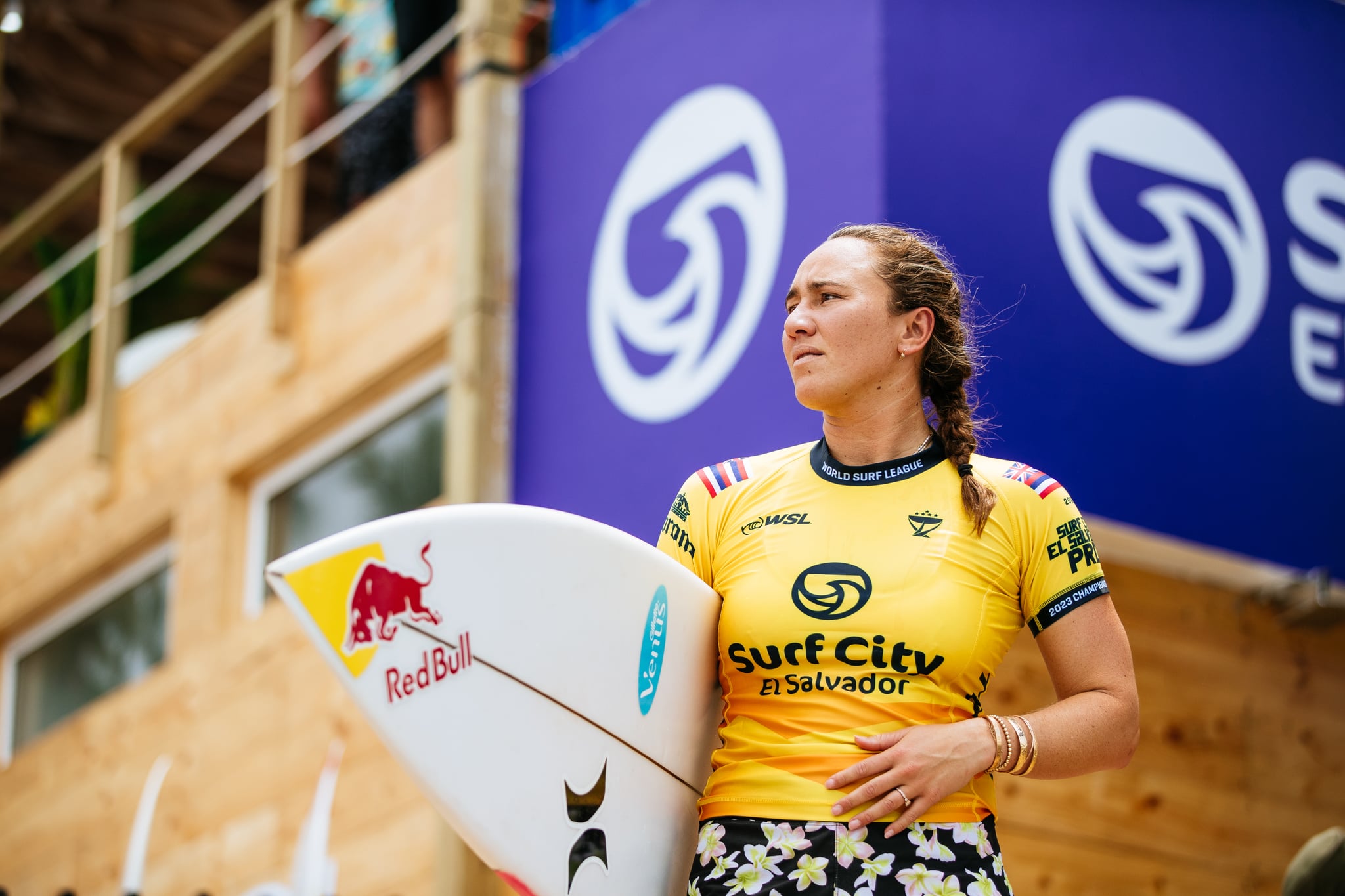 On Thursday, as Carissa Moore was preparing for the last event of her season, the Honolulu-born surfer was also thinking about the wildfires sweeping through her home state of Hawaii.
"Honestly, I feel helpless being an ocean away," Moore told POPSUGAR after the opening ceremony for the Shiseido Tahiti Pro at Teahupoʻo. "Obviously, we've been talking to family and friends at home. And most of my family and friends are in Honolulu. But I know a lot of people from that area, and I grew up surfing in Lahaina Harbor and spent a lot of time in Maui. So it's definitely nearer to home and my heart and my thoughts are with all the people over there."
But in the coming days, the surfer is forced to focus on what's in front of her: the wave. In 14 years of touring, it's just her second time in Teahupoʻo — the venue for the surfing competition for the Paris Olympics in 2024, and where Moore hopes to defend her gold medal, the first-ever in women's surfing, which debuted at the 2020 Tokyo Games.
"For a lot of people, it's not a place where you just go and visit. It is a place people call home."
"It's a very intense and challenging wave. I'm excited for the opportunity to push myself a little bit outside my comfort zone and learn more about the lineups and the wave and hopefully work on my backside barrel riding techniques. Those are the big goals this week," Moore said.
The 30-year-old is preparing to surf as early as Friday. "I'm trying to just focus on myself and doing the best that I can. Hopefully, it falls into place for me," she added. "I'm going to be working on trying to have good technique entering the barrel and holding my rail, and come into a nice line in the tube. Which is difficult to do, especially on your backhand."
Like many other surfers, Moore intimately knows both the water — where many citizen escaped the flames — and the town of Lahaina, where the wildfire, fanned by strong winds following a drought, ravaged much of the town, damaging hundreds of buildings. The fire has killed at least 53 people, per The New York Times, and Hawaii Gov. Josh Green has warned that count would likely rise. President Joe Biden declared the fires a major disaster.
Moore returned to Maui every year to compete as an amateur. "We would stay in the Pioneer Inn and then we would walk across the street and we would hang at the park and jump in and surf over there by the harbor," she said. The 122-year old hotel, which housed so many memories for Moore and others, was completely destroyed. "You pull aside any Hawaiian surfer, and you ask them about Lahaina Harbor, they will be able to stir up some beautiful memories from that place."
Although she doesn't know anyone directly who lost their home, Moore's in-laws own a store on the main street in Lahaina that burned. She's been posting about how to help on Instagram, and she urged people to donate what they could, either money or goods, and have empathy to locals who are struggling. The Office of the Governor of Hawaii has directed those who want to donate to the Hawaii Community Foundation.
"For a lot of people, it's not a place where you just go and visit. It is a place people call home and have their businesses and their families and their routines of taking their kids to soccer and the school," Moore said. "So if something happened to your home, how would you hope that people would show up for you? I always try to think of that: treat other people and show that aloha and that love the way that you would hope people would show up and show that love and aloha to you."
Image Source: World Surf League via Getty Images / Aaron Hughes