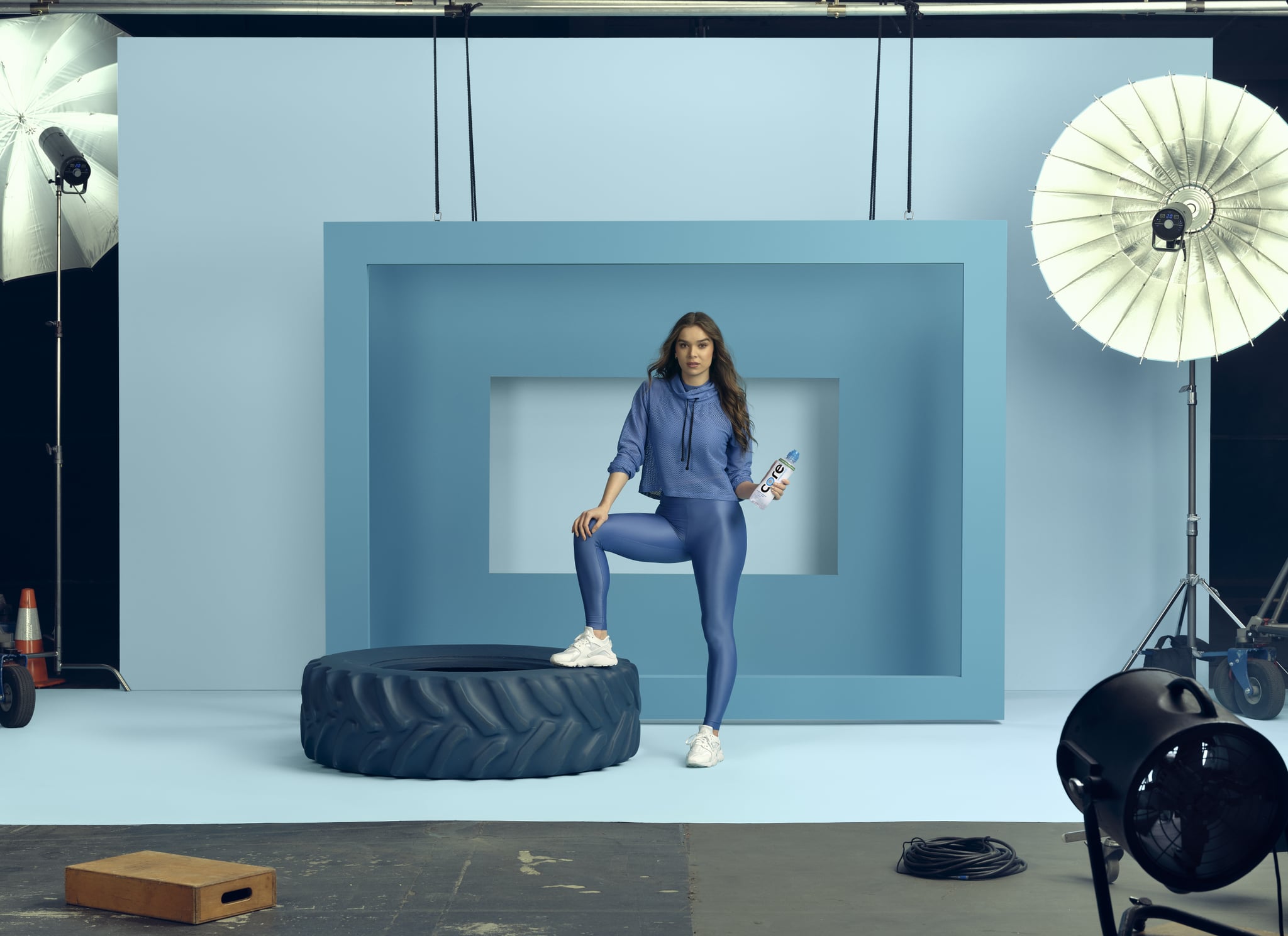 Hailee Steinfeld is a Sagittarius, which means her birthday is in a few days — Dec. 11. She'll turn 26, yet she's already accomplished so much on her bucket list. She's a Golden Globe- and Academy Award-nominated actor, multiplatinum recording artist, and producer. But she has some major wellness goals that she's ready to tackle in the new year.
For Steinfeld, prioritizing work-life balance has always been key. In addition to recording new music, she's diligent about maintaining her physical and mental health and spending time with friends and family. But the multihyphenate knows that balance looks different for everyone. "It might be something completely different for you than it is for me, and that's the beautiful thing about self-care and about wellness," Steinfeld tells POPSUGAR in an exclusive interview. "It's totally relative to the person."
Ahead, Steinfeld shares her most beloved wellness rituals (hint: they involve dogs), what she's cooking lately (we're waiting for a dinner-party invite), and the inspiration behind her hit music video for her new single, "Coast."
This interview has been edited and condensed for clarity.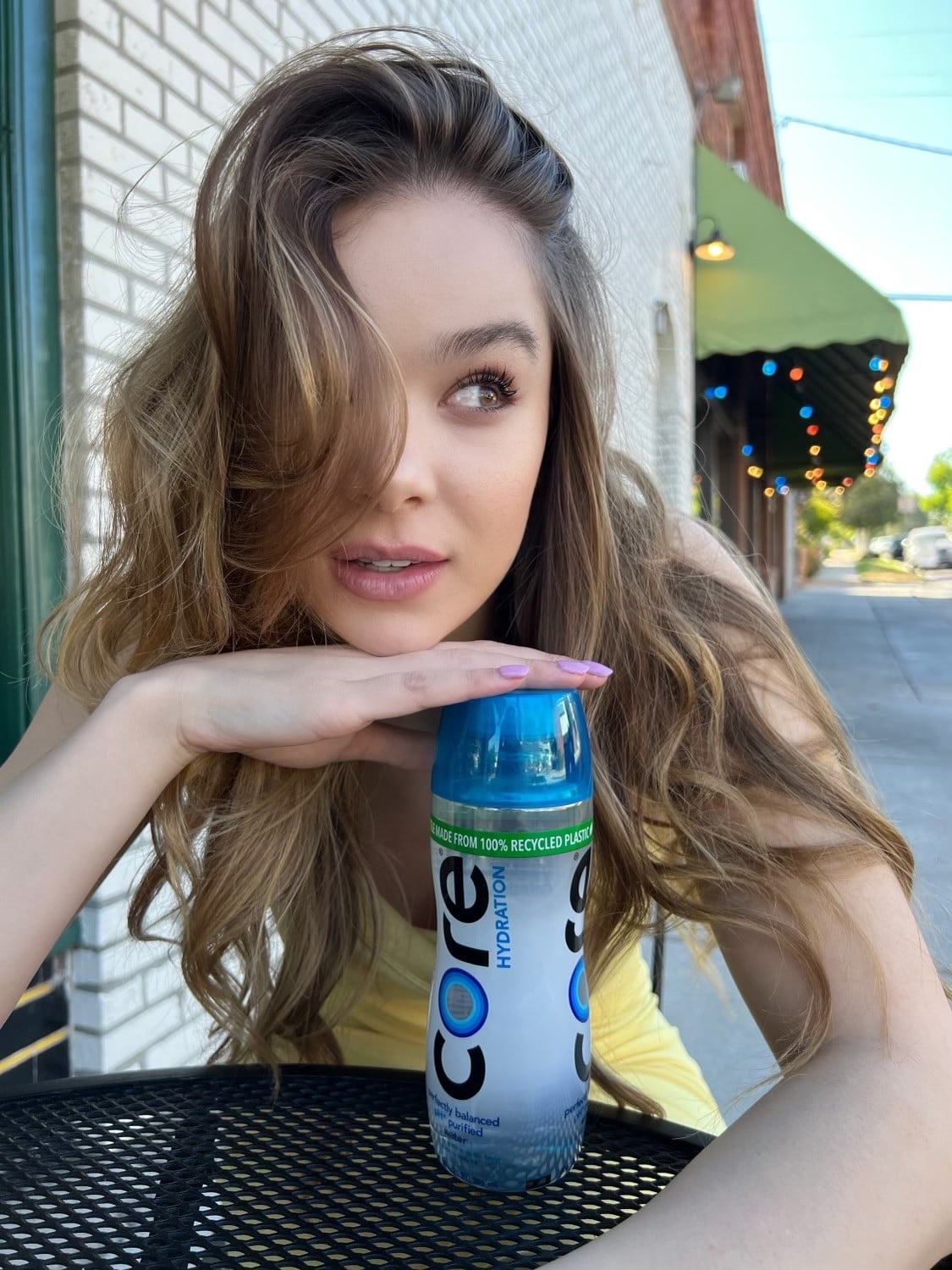 POPSUGAR: I would love to know about the wellness rituals you can't live without. How do you like to start the day?
Hailey Steinfeld: Oh, spending time in nature never fails me. It almost instantly reduces stress, eases my mind, and just sort of boosts my mood. And that all takes place while I'm waiting for my dogs to go to the bathroom. But that's how I start my day.
PS: Nothing like a dog bathroom break to get you out of bed. I just spent some time in the woods, and it really helped. Are you a big outdoorsy person? Like are you a hiker or more into casual strolls?
HS: I mean, all of the above. It's actually funny you asked and bring up hiking, because a friend of mine, who is not from California and does not live here, recently came to town and asked if we wanted to go on a hike, and I was like, "Oh my god, that sounds amazing. I would love to." The weather's been great just a couple weeks ago. And I was like, "I'm actually so embarrassed, I'm not very well versed on hiking trails around here." And they had a list of about eight, and so I have a list that I have to explore. But we did go on a hike to the Hollywood sign, which I cannot believe I'm born and raised in Southern California and I've never taken that hike before. So I've crossed that off my bucket list.
PS: Speaking of bucket lists, are you a resolutions person? Any wellness-specific goals for the new year?
HS: Oh yes, big resolutions person. I love going into a new year with clear, set intentions. And I feel like in the last few years, I've really gotten to a point in my life where I understand what it means to take care of myself — or I guess I've discovered ways in doing so that makes sense for me. And so I feel like one thing I really want to continue that I've sort of dabbled in the last year is cooking for myself. I've realized how much control you have over what you put in your body when you make it yourself and when you're aware of the preparation, and it's also incredibly therapeutic. And I say cooking for myself because I will make next year's resolution cooking for other people, since that's a whole other thing in and of itself. I'll get there.
PS: Baby steps. Is there anything that you love to cook just for yourself right now?
HS: I love bell peppers, specifically yellow and red. And I take a yellow and a red bell pepper, I'll cut it in half, and I will put either ground turkey or tofu with some black beans. It's kind of like a taco in a bell pepper — some veggies and protein. I've either cooked the pepper, or I keep it raw. I'm just kind of experimenting. But that's something I've been loving.
PS: That sounds a lot healthier than the tacos I eat, so very impressive.
HS: Listen, not every night — we have to mix in the real tacos!
PS: Of course! Shifting to "Coast," your new music video just recently dropped. That's so exciting! I couldn't help but notice, as a wellness reporter, all of the wellness language that was integrated: the breathing in and out, energy flowing, even the full-moon reference. Can you speak a bit about the inspiration behind the song?
HS: Yeah, absolutely. So "Coast" was one of the first songs that came together when I set out on this new [music] project. And it was so important to me — especially when it came to deciding on what the first song was — knowing it would represent and set the tone for what's to come. It was so important to me that this song made the listener feel good. This song really is about being free and letting go and losing all inhibitions and just going with the flow and trusting your energy and breathing in, not forgetting to take those deep breaths and just live your life, not take it too seriously. And that was, and very much still is, the headspace that I am and was in when creating this song. And even making the video, it's a fun visual escape. And that's "Coast."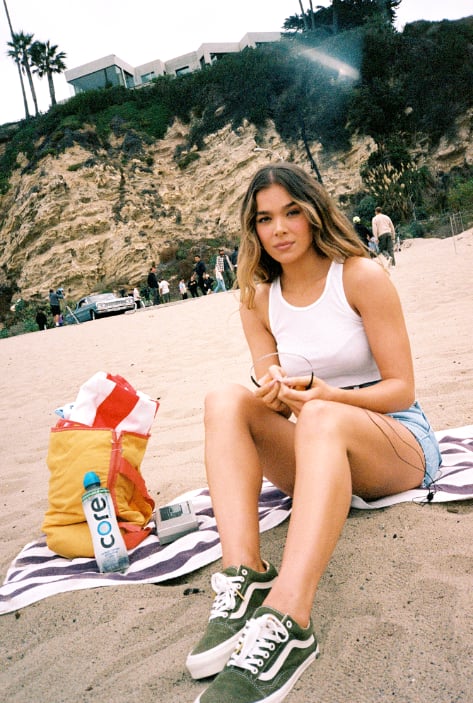 PS: I totally felt that while watching it, so that's really cool. I also peeped a Core water bottle in the music video and know the brand was a huge partner in promoting the song.
HS: The partnership with Core Hydration has been so incredible and such an amazing message and reminder to myself that there is so much power and so much importance in finding your balance. And that can take shape in many different ways, which I've also learned.
PS: Don't hate me, but I have to embrace the pun a little bit: what's your go-to coasting activity?
HS: I would love it if it could be taking naps, but I'm not so good at that. I love driving around and listening to music. I feel like the car driving is where I test music. I don't know, there's something about driving, listening to music specifically, either over the canyon, down to the beach, or on PCH [Pacific Coast Highway]. I feel like there's something quite, I don't know, a nostalgic feeling about that, maybe. But movie nights, too; of course a little binge never hurt nobody. I love that. What else? I mean, hanging with my dogs. I love just chilling with them. They keep me entertained.
PS: Do they help you feel grounded at all? I know I feel that way about my golden retriever, when she's not acting up.
HS: My brother has a golden, and I love a golden! But yeah, definitely. The sole responsibility of making sure that they're OK always, it can divert my focus in a way from something that I'm either stressed about or probably most likely generally overthinking. And I get to put it into them, and they just instantly make me happy. So yeah, I definitely do feel like they keep me grounded. I have to take care of them and make sure that they're OK. Yeah, I love them so much.
PS: We focused on what's new with your music career, but as you know, you're also an incredible actor who has played iconic characters in projects from "Hawkeye" to "Dickinson" to "True Grit" (at age 13!). I'm curious, out of all your roles, what character do you most relate to?
HS: Oh, wow. I don't know that there's necessarily one that I relate to more than another. I feel that each role that I've played, I've very strongly connected to in a way that's different than the last or the next. I'm so grateful for the opportunity of having been able to play them at the moments in my life that I did because I was able to grow with them and through them and discover more about myself. I do have characteristics in common with the characters, in that they're all strong-willed and outspoken and they have point of views and they stop at nothing to get what they feel they either want or need or deserve.
Image Source: Courtesy of Hailey Steinfeld x Core; Photography by Jason Bettman